Stop email fraud before it succeeds
With GravityZone Email Security organizations benefit from complete business email protection that goes beyond malware and other traditional threats such as spam, viruses, large-scale phishing attacks and malicious URLs. It also STOPS modern, targeted and sophisticated email threats including Business Email Compromise (BEC) and CEO fraud.
Features
Advanced mail routing engine
Offers complete control over mail flow, and supports multiple email providers all in a single domain.
Complete control over mail flow
A powerful policy engine enables control over email delivery and message filtering based on a set of attributes, including size, source, destination, keywords, and more.
Comprehensive visibility, data protection and compliance
Charts deliver visibility over mail flow, rules triggered and actions taken. Admins can use standard reports or create custom reports and alerts based on specific triggers. A detailed audit is available including the actions and triggers and logs can be achieved automatically after 90 days. The solution helps protect confidential information and simplify compliance with functionality such as Data Loss Prevention and the ability to enforce TLS encryption.
10.000+ Algorithms
Behavioural analysis alone includes over 10,000 algorithms analyzing more than 130 variables extracted from each email message.
Time-of-click protection
Rewrites links in messages and protects users at time-of-click, whether that's seconds or days after a message has been received, with flexible policies and block and warn (continue with caution) notification pages. Multiple reputation services are combined with real-time page content analysis to accurately determine if a target page is malicious at the point in time that the user clicks the link.
Outbound filtering
Filters and controls content in outbound messages.
MSP email security
Bitdefender GravityZone Email Security is available for Managed Service Providers with multitenancy and simple monthly licensing based on automatic usage reports. This enables MSPs to streamline and automate vendor and user management, provisioning and licensing by consolidating email security and endpoint protection within the comprehensive Bitdefender MSP Security Suite
Email security architecture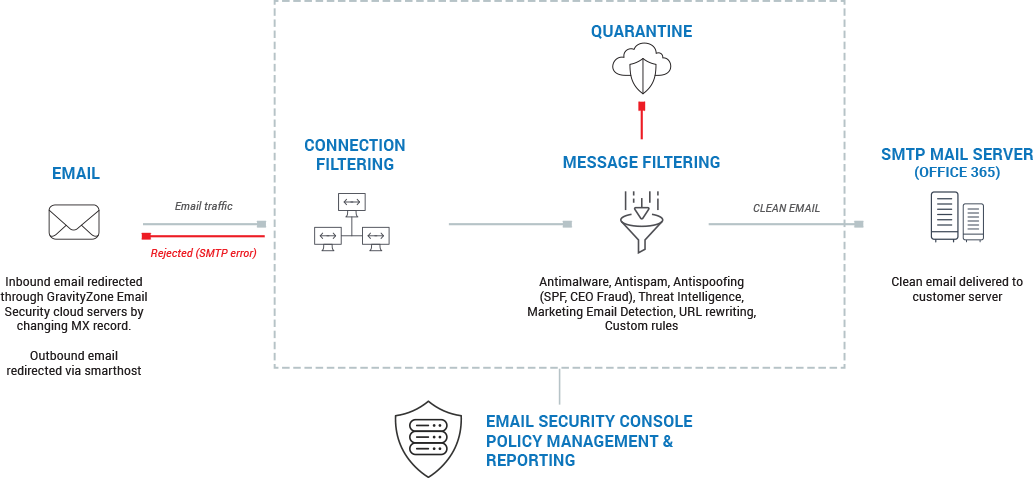 GravityZone Email Security is available with GravityZone the cloud console.
REQUIREMENTS
Change MX records to re-route inbound email through Cloud Email Security servers.
Configure smart hosts to re-route outbound email through Cloud Email Security servers.
For inquiries, email us at info@agdatacom.com
Source: https://www.bitdefender.com/business/gravityzone-addons/email-security.html