An integrated endpoint protection, risk management, and attack forensics platform
GravityZone Elite safeguards your organization from a full spectrum of sophisticated cyber threats. With more than 30 machine learning-driven security technologies, GravityZone provides multiple layers of defense that consistently outperforms conventional endpoint security, as proven in independent tests. A single-agent, single-console solution for physical, virtual, mobile, and cloud-based endpoints and email, GravityZone Elite minimizes management overhead while giving you ubiquitous visibility and control.
Features and Benefits
NEW

NETWORK ATTACK DEFENSE
HYPERDETECT™ BLOCKS FILE-LESS
ATTACKS AT PRE‑EXECUTION
SANDBOX ANALYZER ENHANCES
TARGETED ATTACK DETECTION
NEW

ATTACK FORENSICS EXPOSES THREAT KILL CHAIN

NEW

RISK ANALYTICS HELPS CONTROL RISK AND REDUCE ATTACK SURFACE
EXPLOIT DEFENSE SAFEGUARDS MEMORY
MACHINE LEARNING PREDICTS AND
BLOCKS ADVANCED ATTACKS
Endpoint Risk Management and Analytics
View your overall Company Risk Score and see how various misconfigurations and application vulnerabilities contribute to it

2
Assess prioritized misconfigurations and application vulnerabilities across your organization's endpoint estate

3
Get a risk snapshot for servers and end-user devices and review the endpoints exposed the most

4
Zero in on misconfigurations, vulnerable applications, or individual devices and fix misconfigurations or patch vulnerabilities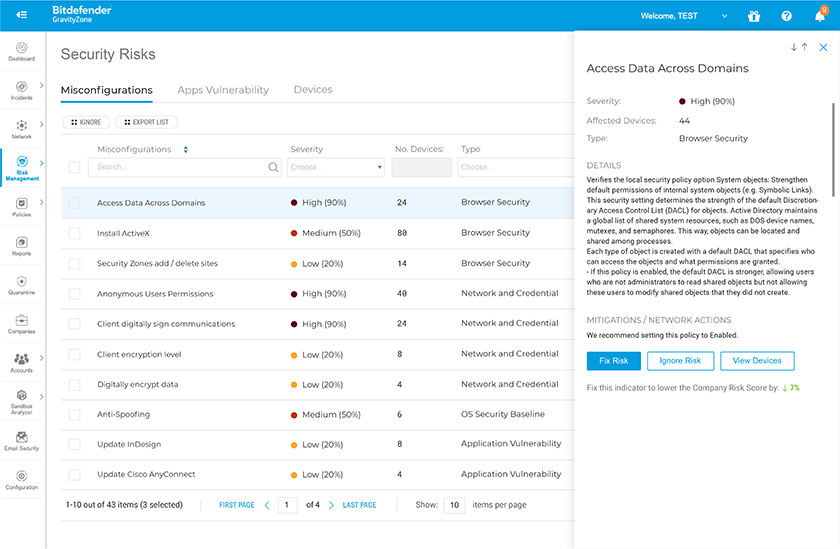 Attack Forensics and Visualization
Attack Forensics and Visualization enhances the level of visibility you can have into your organization's threat landscape and reveals the broader context of attacks on endpoints. This GravityZone Elite module includes root-cause analysis, attack kill-chain visualization, and remediatory actions related to threats detected and blocked by GravityZone prevention technologies, e.g., Antimalware (Exploit Defense, PowerShell Defense, HyperDetect, etc.), Sandbox, and Network-Attack Defense.
Kill-chain visualization helps understand how a blocked attack was engineered and lets you zero in on specific attack stages, machines, processes, files, web domains and other elements involved.
In addition to automatic remediation capabilities, you can use Attack Forensics and Visualization to undertake manual action, such as running PowerShell commands on the infected machine remotely, killing a process, quarantining a file, or adding a file to a shared blocklist.
Source: https://www.bitdefender.com/business/enterprise-products/elite-security.html