Overview
Since recent years, organizations, such as brokerage firms, banks, insurance companies, hotels, restaurants, police stations have been well aware of the importance with the quality of their telephone services. Irrespective of whichever scale, they understand call recorders being able to improve customer services and employee productivities, address security concerns, and comply with legal requirements.
Multisuns Corporation with 30-year experience in call logging industry is offering TCR-3000 that is suitable for use by small-to-medium organizations. Each TCR-3000 supports 8 channels. While associated with TCR-3000 Manager software, as many as needed TCR-3000s are grouped and act as a medium channel density calling solution.
Desktop and web-based user interface
8 Channels per unit, expandable to a hundred or more by grouping several units
Direct connection with analog phone line
Direct connection with handset of digital/IP phone
Call recordings backup for multiple TCR-3000s readily available via network connected PC
Call recording encrypted by AES 256 bit
Call Recording Announcement implemented by built-in TD-100 (Optional)
10/100/1000 RJ-45 Ethernet network
Phone line breaking off auto checkup and alert notification
System software user-upgradable via computer network
Ring-no-answer-call records logged and user-searchable
TCR-3000 
Special Features
TCR-3000 does far more than just record conversations.  It plays prerecorded statements to telephone line and record them with conversations, enabling that financial planners, investment advisors, attorneys, trading agents and mission critical persons delimit the scope of rights and obligations in a legally-recognized fashion and accurately meet the compliance requirements of the applicable laws.
TCR-3000 Central Management Features
With powerful central management features, the recorded calls of all available TCR-3000s can be archived to a central storage device.  Besides, TCR-3000s can be grouped according to user demands; and channel status monitoring, live call monitoring, searching and replaying for call archives, system configurations are supported.  TCr-3000 is excellent for use by small-to-medium sized enterprises including real estate brokers, restaurants, retailers and lift service companies.
Key Features
Fast Digitization and High Compression:
CPU and DSP built-in
UI:
Desktop and web-based
Audio Inputs:
Direct connection with analog phone line, or handset of digital/IP phone
Channels:
8, expandable to a hundred or more by grouping several units
Voice Announcements:
Auto playable or telephone owner's controlled playback (optional)
Remote Maintenance:
Configuration and troubleshooting are remotely accessible.
Multisuns EULS-CA Integration:
TCR-3000 CA can integrate with EULS-CA .
Call Records and Audios:
Besides using memory card, they can be centralized in remote storage device.
Audio File Safety:
Digitalized audios can be AES 256bit encrypted.
Search Criteria and Conditions:
Date-time, Machine ID, username, extension, call duration, inbound/outbound, department, and ….
Broken Line:
Auto detection and email alerts.
AGC/AVC:
User-adjustable
Firmware Upgrade:
Quick and easy
Record Triggers:
Hook, VOX, DTMF, API, Schedule
Tagger:
Telephone owners can add "Importance" or "Save" tag during recording.
User Access Controls:
Users and user-groups, and privileges are user-programmable.
Error Alert:
By email or via customized GUI
Integration with PBX thru SMDR:
Many PBXs supported.
Ring-no-answer Calls:
ALL or only having Caller
Group Settings:
Export and import, and cross- computer copy and paste
Date-Time Sync:
SNTP support
Specifications
Sizes: 210 x 148 x 33 mm ( without rubber foot )
Channels: 8 channels
Power Input: DC 12V
Network: 10/100/1000 Ethernet RJ-45
Protocol: IGMP、ARP、ICMP、TCP、 UDP、DHCP、DNS、SNTP、 SMTP、HTTP
Encoding Format: MSGSM/MSGSM AES
Caller ID: DTMF、FSK Bellcore、ITU-V.23、 Japane NTT
Storage: SD / SDHC / SDXC UHS-I Max 64G (11200 Hours)
TCR-3000 Manager: Windows
Diagram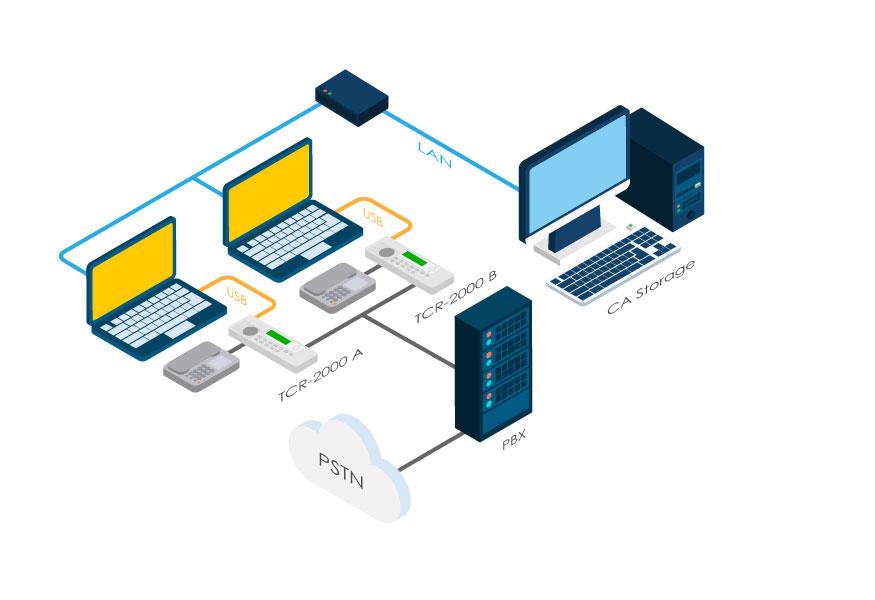 For inquiries, email us at info@agdatacom.com
Source: http://www.multisuns.com/tcr-3000_kf_e.html